ZEDA I PARTNERI ODRŽALI KICK-OFF KONFERENCIJU PROJEKTA iNnovaNet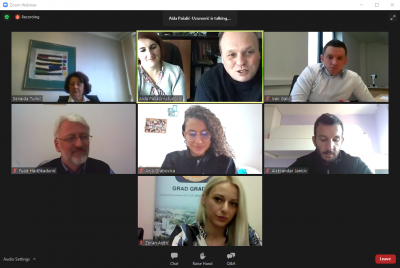 Danas, 27. novembra 2020. godine, ZEDA je u saradnji s partnerima, IPNG-Industrijskim parkom iz Nove Gradiške, Inovaciono preduzetničkim centrom Tehnopolis iz Nikšića (CG) i Gradom Gradiška, organizovala Kick-off konferenciju projekta iNnovaNet – Innovative technologies for stronger businesses and improved business environment (Inovativna tehnologija za snažnije kompanije i unapređeno poslovno okruženja).
Ovaj projekat čija je vrijednost 1.320.786,21 EUR, u iznosu od 85% finansira EU, a odobren je u okviru Drugog poziva za projekte prekogranične saradnje Hrvatska-Bosna i Hercegovina – Crna Gora (Interreg IPA Cross-border Cooperation Programme Croatia – Bosnia and Herzegovina – Montenegro 2014-2020).
Temelji se na principima prenosa znanja i iskustava partnera u inovativnim tehnologijama i unapređenju infrastrukture kako bi odgovorila rastućim potrebama privrede i industrije.
Glavni aplikant u projektu i vodeći partner je Zenička razvojna agencija ZEDA.
Na Kick -off konferenciji su učestvovali predstavnici Grada Zenice, Grada Gradiške, Nikšića, Nove Gradiške, Biroa rada Zenica, privrednika, akademske zajednice, razvojnih agencija i udruženja poslodavaca.
Učesnicima Konferencije je predstavljen projekat, aktivnosti koje su već realizovane ili koje su u toku, aktivnosti koje slijede, te su prezentovani očekivani rezultati i ciljevi ovog Projekta za koji je planirano da traje 24 mjeseca.
Više informacija o ovom Interreg-hr-ba-me programu možete saznati na linku https://www.interreg-hr-ba-me2014-2020.eu/about-programme/