Better World Books poziv za projekte za organizacije i biblioteke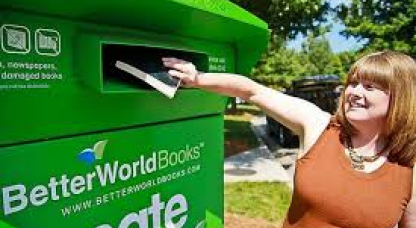 Rok prijave: 30. april 2019. godine
Better World Books poziva neprofitne organizacije i biblioteke da se prijave sa idejama "Promjena života" koje pomažu unaprijediti projekt opismenjavanja.
Grantovi su namijenjeni širokom spektru projektnih ideja i za finansiranje projekata koji će imati najveći uticaj u svojoj biblioteci ili zajednici.
Better World Books je partner sa hiljadama biblioteka širom sveta. Pored rada sa međunarodnim neprofitnim grupama kao što su Room to Read and Books for Africa, također finansira projekte u zajednicama koji imaju uticaj na lokalnom nivou.
Better World Books vjeruje u moć znanja. Njihov cilj je da pomognu onima koji omogućavaju znanje i da ga dijele sa onima koji to žele.
Informacije o finansiranju
Maksimalni iznos granta po projektu će biti 10.000 dolara u Sjevernoj Americi ili 10.000 funti u Velikoj Britaniji (ili ekvivalent u eurima).
Podnosioci prijave mogu podnijeti zahtjev za grant koji je manji od ovog iznosa.
Kriteriji podobnosti
Prijaviti se neprofitne organizacije iz čitavog svijeta.
Prijaviti se mogu i biblioteke koje se nalaze u SAD, Kanadi, Velikoj Britaniji i Evropi.
Projekti bi se trebali baviti pitanjem opismenjavanja nedovoljno podržane populacije u njihovoj zajednici. Potrebe za pismenošću se definiraju tako što se široko identificiraju, razumiju, interpretiraju, stvaraju, komuniciraju i računaju informacije kako bi se živio ispunjeniji i produktivniji život.
Posebna pažnja će se obratiti na projekte koji imaju mjerljiv i dugoročan uticaj na nedovoljno podržanu populaciju, te čiji će se uticaj nastaviti i nakon što se grant sredstva budu iskorištena.
Kako se prijaviti
Podnosioci prijava to mogu uraditi putem web stranice.
Za više informacija, molimo posjetite https://cares.betterworldbooks.com/grants/literacy-grants-for-nonprofits/
Izvor: https://www.mreza-mira.net/